Training Classes
Dog On It (DOI) offers training classes for all levels, from puppy classes to international handling, at the Club's training field in Zellwood, near Apopka. The address is 4253 Ponkan Road, Zellwood, FL 32798. The entire site is fully fenced and the rings are lighted. Water and wading pools are available to cool off the dogs, and there is shade near the rings to park under if you like to work out of your car. For those who took classes at our old site in Winter Park, this one has a big advantage -- no more schlepping equipment!
---
As of now, classes are offered by Rhonda Koeske and Elizabeth Dott! DOI members in good standing get priority for the spaces available each session, and non-members spots are available for the classes that don't fill with members. Additional instructors may be added as demand warrants.
Sign-up is through the instructors, and fees are paid to them directly, not to DOI.
---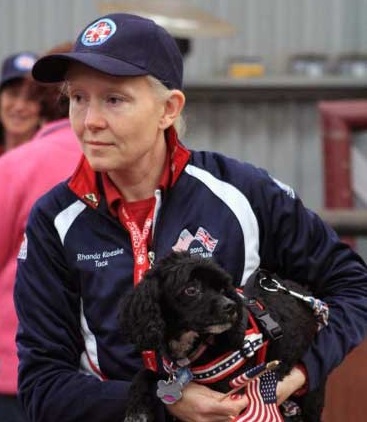 Note: The Agility Focus Handler Agility class start time on Tuesday mornings has changed from 8:45 A.M. to 8:15 A,M. in an effort to get cooler temperatures.
"I believe that every dog and handler team is unique and has their own set of strengths and weaknesses. There is no "one size fits all" training method for each and every dog and handler team. I like to help handlers find methods and techniques that work for them based on their relationship with their dog and their strengths. I like having fun in training and cheering on students to success! Rhonda has had tremendous success with her dogs, Spike and Tack, both mixed breeds, with which she has obtained notable accomplishments."
Agility Accomplishments:
ADCH-Platinum, NATCH, C-ATCH Tack,
2010 IFCS World Agility Championships Team USA Member
2012 PVP Silver Medalist and PGP Finalist
2 dogs ADCH (one ADCH – Gold) and NATCH titles
2 dogs USDAA Top Ten (9 times, 1998-2001, 2007, 2009)
2 dogs USDAA Grand Prix Finalists (2002, 2008)
2 dogs AMBOR Agility Championships winners (2002, 2007)
2010 IFCS World Agility Championships, named to Team USA
10 years Qualified for and Competed at USDAA Grand Prix / Cynosport World Championships
---
Elizabeth has been actively participating in the sport of agility since 1993 and began with her Border Collie Mix, Max. She has worked and studied under some of the best trainers in the world to achieve her education in the sport of agility and can work with any breed of dog and handler team to give them the highest quality of agility training. Elizabeth also stays up with the top methods being used as the sport of agility evolves into the high competitive sport it is today. She can help you work toward getting to the National level or work with you becoming a team just to have fun with your dog and has both kinds of students training with her. Elizabeth has written articles for Clean Run and also USDAA.com on agility related topics including training articles. Elizabeth knows and has competed in almost all of the agility venues and can help you and your dog understand the rules of any venue you wish to participate in.
Elizabeth's Agility Philosophies: "I believe for a team to be the utmost success there needs to be respect on both sides. I believe the handler not only needs to be very valuable to the dog but the dog also understands their value to the handler. I also believe agility is a two part sport. The dogs job and the handlers job. It is our job to make sure the dog understands his job completely so I am a big proponent on teaching skills. The dog should completely understand their job to make the team successful. Only then is the handler free to do their job. The dogs job includes contact criteria and independent contact performance, fully understanding how to weave no matter where the handler is on the course and independent weave poles, a solid start line and lead outs from the table and other areas and understanding the lines presented to the dog. Only then is the handler free to do their job which is showing the dog the lines, using lateral motion to move up the line ahead of the dog and tightening up turns. It is not about being faster then the dog it is about working smarter as a team. I look forward to all the new opportunities teaching new people how to use these skills to create their own super team."
---
All individuals, including members and non-members, who are taking classes, attending seminars, or those holding field memberships and their guests will be required to sign our standard release. Download the Release here.
Please contact our training director at doiagility@gmail.com for further class information or if you are interested in teaching at our field.
---